View Chris O'Donoghue's alternate lyrics to Sean O'Casey's "Red Roses for Me" and listen to the original song

Stay Connected with Pantagleize

Join Our Mailing List
Find out about ticket specials, new show information, special events, and more!

We give a 20% discount to members of KERA.
"Seamus Heaney, Poet of Soil and Stife, 1939-2013."
Ireland's Nobel Prize for Literature, Poet and Playwright.
Thanks.
Upcoming Schedule

---

Dec. 6 & 7
CANCELED DUE TO WEATHER
More info & Tickets
Friday Funnies: The Sixth Senseless Act of Comedy!

Chaos and holiday mayhem with a side of really great barbecue! The old gang is back again to skewer life as we know it.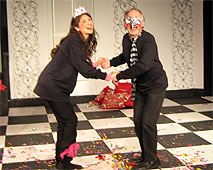 The mission of the Pantagleize Theatre Company is to bring plays from around the globe to Fort Worth, TX and develop original works by local playwrights to share with the world.
To purchase tickets, call the box office at: 817-718-4339, or book online now by going to our Event Calendar and Tickets page.
Pantagleize Theatre Co. is a 501 c 3 nonprofit theatre. As with almost all nonprofit theatres, our box office proceeds cover only about 30% of our needs. If you like what we do, won't you include us in your charitable giving? All donations are tax deductible.